Energy efficiency of a Wienerberger's plant: CNIM's high-efficiency heat pump
A heavy-duty truck carrying a heat pump drove out of CNIM China's workshops, starting a journey to Austria.
The under pressure equipment is a high-efficiency heat pump specially built for the waste heat recovery system within one Wienerberger Group's factory in Austria. It is 12 meters long, 3.3 meters wide, 6.4 meters high, and weighs 8.9 tons.
There are 717 stainless steel pipes in this equipment, which have undergone 2,868 expansions to realize seamless assembly of steel pipes and plates. All pipes successfully passed the helium leak test. In addition, the thin plate of the water tank must be fully welded to ensure no leakage, but also to control the deformation because of weld heating. This requires our team to have unique skills.
Although the project is produced during the 2021 Spring Festival, the task is heavy and the delivery time is tight, our company strictly implements epidemic prevention measures to ensure that the company's production is carried out in an orderly manner, and the production is completed on record time.
CNIM has been improving energy efficiency for more than 60 years. CNIM supplies 1 MW and larger custom heat pumps and chillers to tackle energy efficiency challenges at industrial facilities in numerous sectors, including the oil, petrochemicals, chemical, energy and shipping industries.
Discover our other heat pump projects:
2.6 MW heat pump for energy efficiency of a waste-to-energy plant in France
30 MW heat pump for Swiss heat network
Learn more about our heat pump offer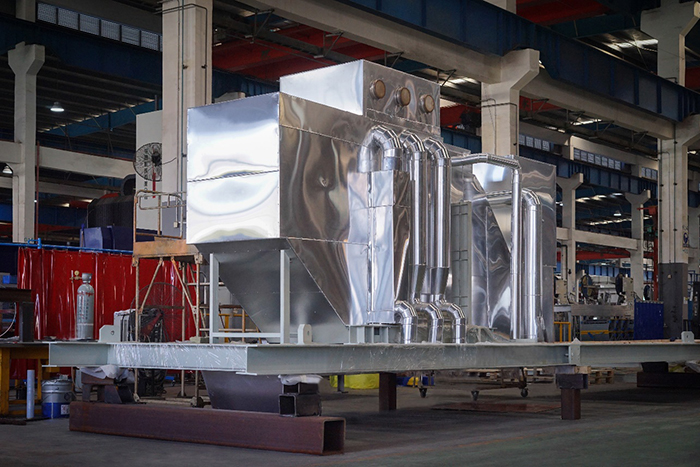 Wienerberger is the world's largest brickmaker and Europe's leading supplier of tiles, operating 202 production facilities in 30 different countries.